Top-level research and expertise – together with the innovations that these generate – form the foundation for Finland's sustainable economic growth, international competitiveness and well-being. Through research and expertise, we are also able to solve global challenges and thus build a better future for all.
Finnish universities carry out high-quality scientific research with high societal and economic impact. We must continually raise the bar, however, if we want to succeed in the international competition for investment and talent. The universities hope that the next government will make wise, fact-based decisions that will safeguard the high quality and impact of research during the next government term and far into the future. A stable operating environment and adequate long-term funding is a necessity for universities to fulfill our mission.
The research conducted by Finnish universities is internationally top-level, with high impact
The research carried out at Finnish universities is of a high international standard, and our researchers compete successfully for EU funding. The State of Scientific Research 2022, published by the Academy of Finland, shows that from 2015 to 2018 the citation impact of scientific publications by Finnish universities was above the world average. (The top 10 index examines the relative proportion of scientific publications in the most cited 10 per cent.).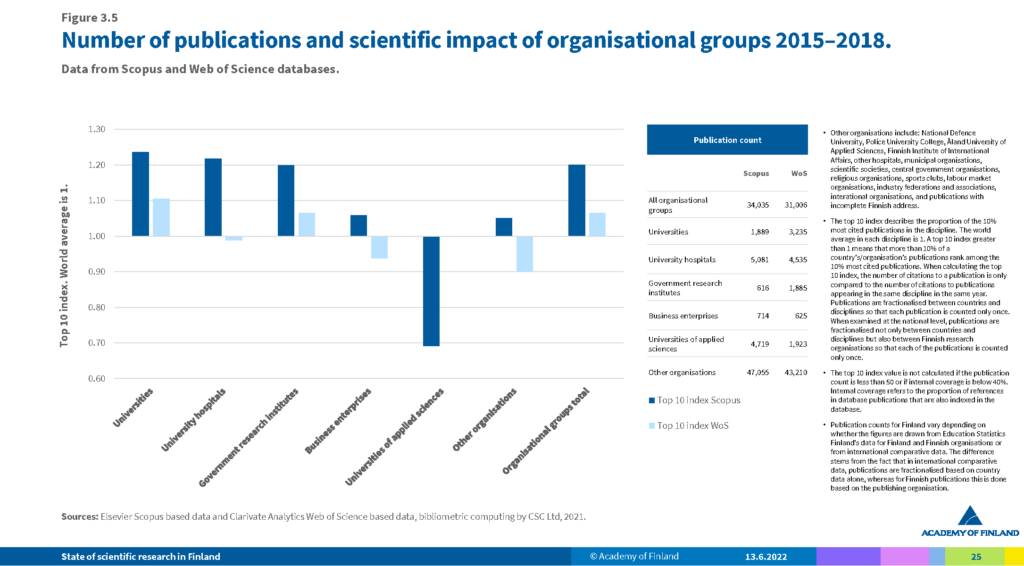 Top-level scientific research has many measurable positive impacts, both societal and economic. Research has shown that the leverage and effectiveness of public RDI funding is greatest when it is targeted at basic research and the higher education that builds on this.
A good example of effective cooperation based on top-level research is the competence clusters of the Academy of Finland's flagship programmes, which bring together universities, research institutes, a wide range of Finnish companies, organisations and foundations. During their first two years of operation, the first six flagships generated over 4,000 scientific publications, 200 patents and 160 new start-ups. These flagships acquired twice as much corporate funding as Academy funding – and five times as much EU research funding.
Thinking long-term and ensuring high quality brings the best results
Finland's capacity to fare well in a context of ever-increasing international competition for experts, researchers and investments can only be ensured through consistent, long-term policies for science and higher education. To build new generations of researchers and avoid brain drain, we need a predictable and stable funding environment.
The universities' joint messages to decision-makers are:
Preserve the university index. The university index should be implemented in its full form throughout the next government term. This will ensure adequate conditions for top-level teaching and research as cost levels increase.
Universities' basic funding should be increased to allow for growth both in quality and quantity in high-level scientific work and doctoral education.
A long-term parliamentary education funding plan should be drawn up, and higher education institutions' increasing numbers of student places should be funded in full.
Strengthen Finland's attractiveness as an environment for science and RDI: Funding for scientific research should be increased and research careers should be developed in order to attract new research talent from Finland and abroad. Research infrastructure and competence clusters should be strengthened, and innovation funding should be directed to support research partnerships with companies in order to increase private RDI investments.
Universities are ready to play their part in building Finland's future. To do this, we need a strong commitment from the next goverment to high-quality research and education, as well as to securing adequate resources for universities.
Further information: Tanja Risikko, Executive Director, +358 (0)40 1952 037